With many new members, lots of training, and several missions, 2014 has been a busy year for Carson City Search and Rescue. Here's a look at some of the things we've been doing this year.
In February, we assisted with the recovery of a stolen vehicle that was stuck on Prison Hill.
In March, CCSAR worked with many other entities after a plane went down in the Pine Nut Mountains.
Also in March, we began some swiftwater rescue training.
Swiftwater training continued in April up on the Truckee River. Photos courtesy of Specialized Rescue Inc.
CCSAR trained with Washoe County's RAVEN team in April. After a helicopter safety lesson, we flew to the top of McClellan Peak and simulated a hover rescue.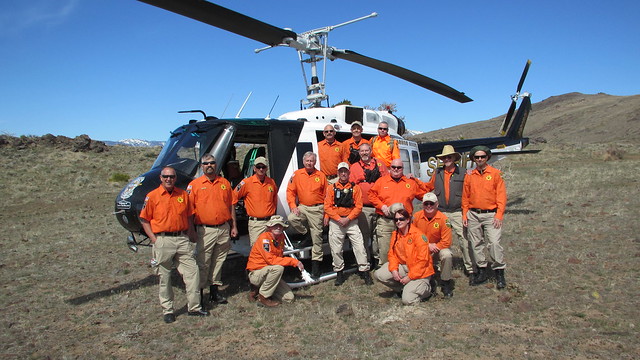 Also in April, we helped out with the Escape from Prison Hill Half Marathon. We had 3 mountain bikes and a jeep out on the course to provide assistance to runners if needed.
In May we joined a multi-county search for a missing California man whose car was found near Nixon, NV, east of Pyramid Lake.
Also in May, CCSAR participated in a multi-county fire evacuation drill in Storey County.
Our Rope Rescue team completed an intense week-long class in May. Photos courtesy of Specialized Rescue Inc.
May proved to be a busy month. After heavy rains fell in Carson City, we rescued a stranded motorist from the deep mud in El Dorado Canyon. Care Flight assisted with locating the vehicle.
In June we rescued a motorist whose vehicle was stuck in Sand Canyon.
June's Taste of Downtown is one of Carson City's biggest events. CCSAR assisted with traffic control to ensure pedestrian safety.
Afternoon thunderstorms struck in July, and CCSAR assisted with evacuations in Clear Creek canyon after fires broke out. Thanks to quick work by fire crews and light winds, no homes were lost.